Replay Hell: Final Fantasy XIII (Yes, I'm going there)
Yeah. I'm going there. Final Fantasy XIII.
As many of you know, my PS3 screwed me over. We won't tell that story again. So naturally I'm replaying as many games as I can stand. And I figured, why not start at the bottom? But soon into playing, the answer to that question became very apparent. Because this game is fucking irritating. Not that it's so bad. I actually don't think it's as bad as everyone says. But man is it irritating.
Why you ask?....Oh. You didn't? Well I'm gonna tell you anyway. Deal. I give you:
5 Reasons to Hate Final Fantasy XIII
1) These freaking tutorials.
5 hours into the game, you're still having tutorials. You can skip the actual tutorials, so that's not really the problem. The problem comes in when each tutorial focuses on a certain aspect of gameplay, and the game won't, no excuse me, REFUSES to introduce any new gameplay mechanics until it makes you run around for about an hour, making positively sure that you've perfected the gameplay mechanic in question. Then, and only then, can you move on.
THIS right here, is why your characters just flat out, do not progress until chapter 3. Yeah, you read that right. The characters do not gain any type of experience from any battles that you fight in chapters one and two. And there's 30 some random battles, and a few boss fights leading up to chapter 3. All for nothing basically. But once you get to that point, the system you're "rewarded" with isn't so much better....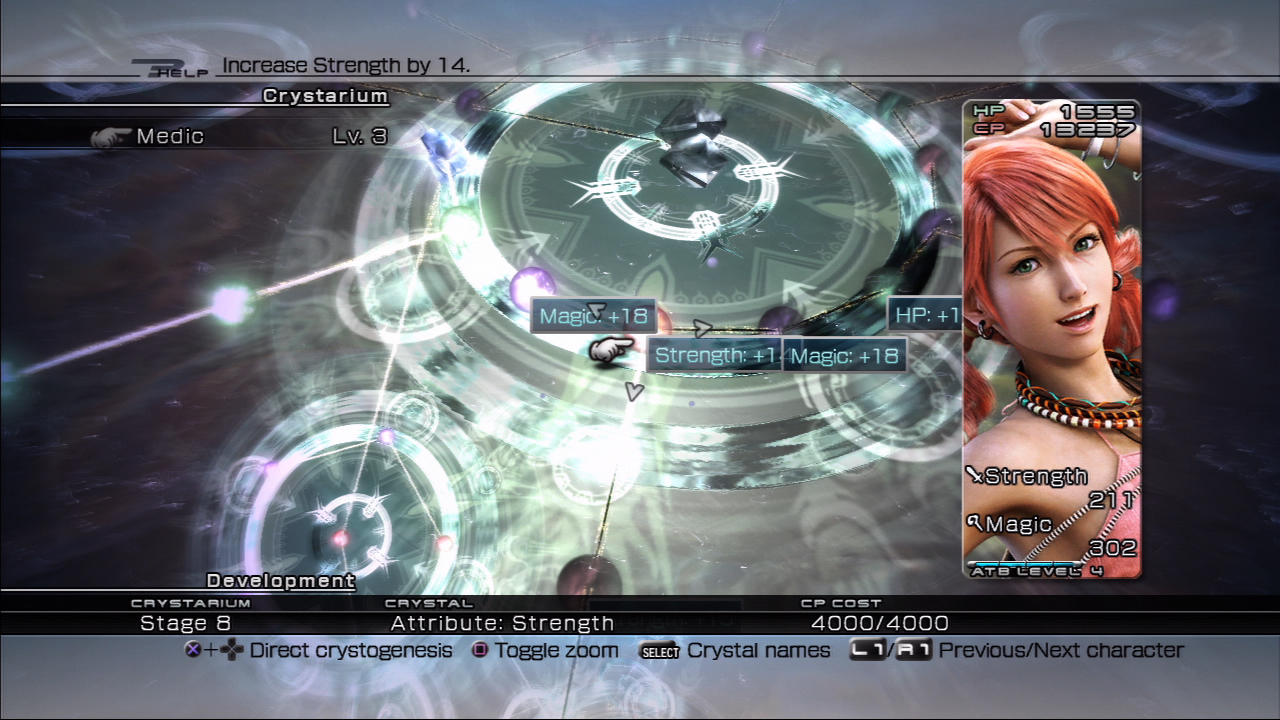 2) The Crystarium
Sure, it's pretty. And all those lines and flashing lights give the illusion of choice, but it's still just as linear as the game itself. I don't mind the linearity of the world. But when it comes to character development, I'd like to have some manner of choice. Especially early on. I mean, I'm not asking for fucking Skyrim, I just wanna choose my own party. You can't even do that until chapter nine...out of thirteen.
And not only that, but progression through the Crystarium is capped. Meaning, your characters can only grow so much in a given span of time, because you have to advance past a certain point in the story before the Crystarium will be "expanded". Yup, no grinding levels for you. I've never been much of a level grinder anyway. I mean, I don't feel the need to be at ungodly levels over all of my opponents, but call me crazy, I would like to proceed comfortably.
That one crystal costs 4000 crystogen points. And that's not even the worse it gets.
Later on in the story, the price to level up your characters becomes RIDICULOUSLY EXPENSIVE. They start you off slow. In the beginning, there's normally always enough enemies between your point A and your destination to max out the Crystarium, without the need to grind. But somewhere between chapters 7 and 8, the price to level up doubles. And in chapters 9 and 10 triples. And in chapter 11....fuck.
Heavily stereotyped he is, but he's also the best character in the game. Hands down.
3) The characters....Oh the characters
There was a time when the only games I played were JRPGs. I was brought up on melodrama, teenage angst, vacant anime eyes, and hair of colors so impossible they would make an Easter egg jealous. I became desensitized to the impossibility of it all. Fast forward a few years. There wasn't a steady flow of quality JRPGs coming out to keep me from venturing into new genres. My love for JRPGs never went away, but it's...faltered a few times. I still find enjoyment in melodramatic sometimes cheesy plots, but I'm less willing to overlook them, and more sensitive to taking notice. Final Fantasy XIII has a pretty good story, when it's not getting bogged down in it's own mythology and characters aren't grating on my nerves.
Lightning
Lightning is a cold bitch. No way around it. But she didn't get this way overnight (apparently). She feeds you this bullshit about her parents dying, taking care of her sister, forgetting who she was, blah blah blah. She gets no sympathy from me. Especially after she LEFT HOPE, A 14 YEAR OLD BOY, IN A DANK DARK MECHANICAL SETTLEMENT ALONE. Why? Because he was just going to "slow her down". Ruthless.
Snow
Meet Snow, your self proclaimed hero. Every JRPGs got one. But none have ever been more irritating. I guess his romance with Serah is kinda cute, despite the fact that she looks 12 years old and he wears a trenchcoat, which effectively makes their relationship a little suspect. And he's always trying to play the leader. Sure he's got leadership qualities, but what good are your leadership qualities if you've got all the common sense of a candlestick?
Fang and Vanille
Might as well do these two together, since they're barely recognized as their own separate entities. In the early going they both display their own personalites. Vanille's the upbeat, annoying as hell, optimistic one. And Fang's the badass, spear wielding, arrogant one. Fang's the more likeable of the two. I would probably like Vanille more if she didn't almost single handedly ruin the best character's life.
You suspect there might be a relationship of some sort between these two before they even cross paths in game. And once they do, oh boy. It just gets weirder and weirder. They're obviously lesbians. Not that there's anything wrong with that. I applaud diversity. But if we're gonna be all "cutting edge" including homosexuality in games, we might as well be all out with it instead of all subliminal Square Enix.
Hope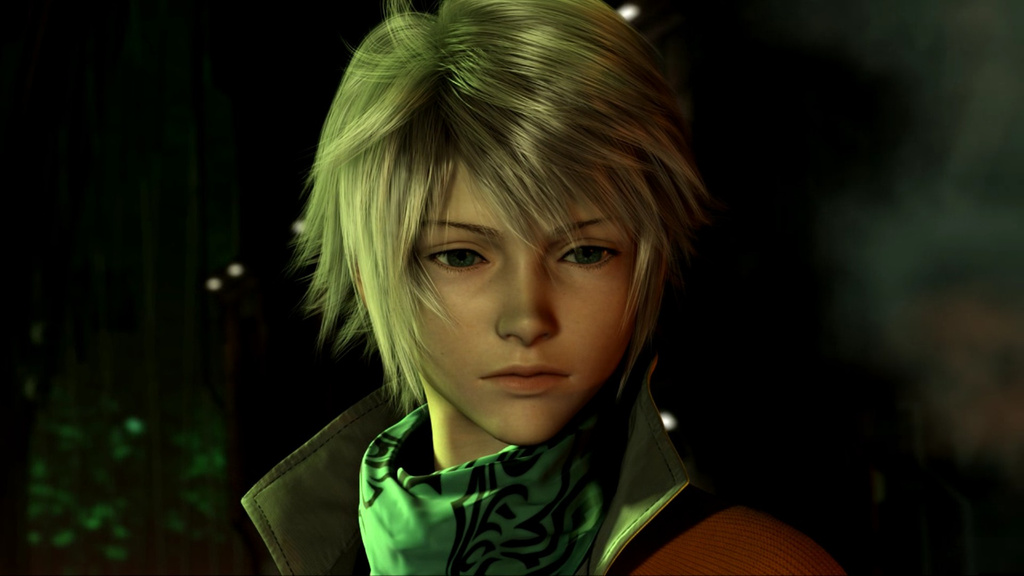 Say what you want about Hope being whiny, a brat, a nuisance, but hey I like him. Marginally. I mean, at least he's somewhat believable. What I don't like about Hope is the massive grudge he's holding over Snow for (accidentally) killing his mother. It's not like Snow took a gun and shot her. It was an accident. It could've happened to anyone. And it did happen to everyone else in the vicinity, But the real kicker is that Hope has numerous opportunities to voice his feelings to Snow....but just doesn't. In a poor attempt to get more use out of the already weak plot line, Hope drags this shit out for HOURS, before finally confronting Snow.
Sazh
The saving grace of all saving graces. Sazh is hands down the most likeable of the cast. Who doesn't love a heart wrenching story about father and son? I do. But more importantly, out of all the characters Sazh has been through the most, he's lost the most, but somehow he still keeps smiling. He's not whiny or abrasive, nor overly optimistic. He knows when to perservere, but he also knows when it's best to just give up the fight. Not to mention, the guy adds some MUCH needed comic relief to this depressing ass game. His story arc is the most compelling, and I'm not ashamed to admit it made me tear up a little. Oh Sazh, I love you.
And Serah...
Not even worth a glimmer of a mention.
4) The Enemies. Oh god the enemies.
One of many behemoths. But this is the blue one....duh, didn't you know?
Never has the offense of palette swapping been so.....offensive. There may be 6 generic enemy types in Final Fantasy XIII. However, you will run into these same enemy types throughout the entirety of the game, owing to palette swaping. You run into this one enemy at the very beginning of the game named a Pantheron. It looks kinda cool, with it's mechanical glowing red body and such. Then chapter 3 rolls along and you're in the Vile Peaks. You round a corner and immediately run into a Thexteron. It looks kinda cool, with it's mechanical glowing green body and such. Eventually chapter 12 rolls along and you're in Eden. You round a corner and immediately run into a Adamantheron. It looks kinda cool, with it's mechanical glowing blue body and such. And now you're thinking, "wait, have I been here before?" And the answer is, no you asshat. You have not. You've been played.
5) Zero Exploration....Yes, really.
No this isn't going to be a rant about how linear the game is. (Here's a pro tip: if you turn the mini map off, it's slightly better...but only slightly). Rather, how linear the story is. It makes sense, in the context of the plot. But you know what, this game really would've benefitted from a world map. As ancient as it sounds, the complaints of the linearity would've been a lot less abundant if this was the case. Just hear me out.
In chapter 4, the whole party (minus Snow) ends up in this weird place called the Vile Peaks. Through this one section the party gets split up numerous times until eventually Hope and Lightning go their own way and Sazh and Vanille go theirs. This works nicely for dynamic storytelling, because you switch between the two pairs consistently with the story. But it really just ends up sucking when you realize your characters are transported to random locations after implied "time skips". After you play as Sazh and Vanille for a while, the control goes back to Hope and Lightning with no insight as to how they got to this completely unrelated environment, the Gapra Whitewood.
We went from here....
To here...
...In all of 10 minutes. What even?
This happens many, many times throughout the story. Which just leaves you feeling very disconnected from the world, because you have no relative idea of where ANYTHING is, you just know your characters got shoehorned into this one place to progress the plot. You're essentially going from one unrelated environment to another unrelated environment, and beautiful as these places are, there's just no way you can feel any type of connection to them.
If that sounds like a lot of negativity, don't worry. There's plenty of things to love about Final Fantasy XIII.