2010 Game of the Year Awards
With 2011 in full swing, the staff has reflected on the past year and highlighted the absolute best on each system.
Wii Awards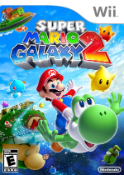 Winner - Super Mario Galaxy 2
A game like Super Mario Galaxy is a tough act to follow, as games of its quality are unfortunately few and far between. Attempting to outdo such a title is an arduous task, yet somehow Super Mario Galaxy 2 manages to exceed it in every imaginable aspect. Building upon the planet-hopping, gravity-switching concepts of the first title, the worlds of this platformer are unmatched in their creativity and variety. Each stage feels crafted with care, with each one focusing on a different gimmick or powerup to challenge the player in interesting and exciting ways. The "just one more" mentality sets in here, as anticipation for the next new experience builds with each star collected. With the addition of Mario's longtime pal Yoshi, old and new powerups, and a guide to help along inexperienced players, Super Mario Galaxy 2 reaches beyond Mario fans and becomes a title with outstanding gameplay that everyone can enjoy.
There were so many great Wii games released in 2010 that we almost didn't want to give this award to Super Mario Galaxy 2. Not because it doesn't deserve it, but because this game winning is so cliché and predictable. There was no way around it however; as good as the runner-up and honorable mentions are, Super Mario Galaxy 2 achieves new levels of excellence and is a shining example of game design. To ignore that would be a disservice to the legacy of this title.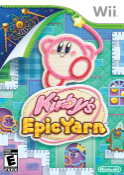 Runner-Up - Kirby's Epic Yarn
Every once in a great while a video game makes it to store shelves that is unmatched in gameplay, unparalleled in design, and rises a cut above every other title on the market at the time. That game isn't Kirby's Epic Yarn. Instead, Kirby's Epic Yarn dresses itself in simplicity, shunning the complexities of many modern games, creating a title virtually anyone could pick up and play, regardless of skill.
Kirby's Epic Yarn is the title, this year, that goes out of its way to be accessible, but presents quality and fun for video gamers of all ages and ability. The game's storybook atmosphere resembles that of children's book, with familiar fabric-based world designs and enemies made of string. Kirby's Epic Yarn is this year's Wii Game of the Year Runner-Up not just for its approachability and simplicity, but also because it remains creative and varied all throughout the game.

Honorable Mentions
Sin & Punishment: Star Successor, Donkey Kong Country Returns, Endless Ocean: Blue World, Tatsunoko vs. Capcom: Ultimate All-Stars, No More Heroes 2: Desperate Struggle, Fragile Dreams: Farewell Ruins of the Moon, Metroid: Other M, Monster Hunter Tri