Think Happy Thoughts, Think Happy Thoughts...
If you're American, you probably know by now that your Country is maybe not doing so well. If you're a woman, you now have no control over your body. If you're a scientist, you have no control over your tongue. And if you're a Muslim... well, you're no longer American.
Trump has barely been in office for a week and he's already done lasting damage, and not just to your stupid country. His bullshit is now effecting me! He severed the Trans-Pacific Partnership Agreement, essentially meaning we don't have free trade with America anymore, which essentially means everything is more expensive for me now. Oh, he keeps pissing off China. You know that really powerful nation that is virtually right next to mine? Yeah, our Country may be rethinking Allegiances soon, and I'm guessing others will be following shortly.
But enough politics. I'm here to escape that bullshit! Let's talk entertainment baby!
Resident Evil 7
I was very sceptical going into Resident Evil 7, as a lot of things I had heard had primed me to essentially espect something along the lines of Outlast or Alien: Isolation. Those games are fine and all, but in Resident Evil I expect certain other things. Like insane monsters, awesomely tense gunfights, and some solid exploration.
The first hour of the game is a bit similar to Outlast, and it's surprisingly effective. It's tense, gory, and reminds me of a mix between Evil Dead and Texas Chainsaw Massacre in terms of tone and bloodlust. After that though? It's Resident Evil through and through. More specifically, it's Resident Evil 1. It has a mansion that slowly opens up and is really quite engaging to explore. It has ridiculous puzzles that make zero sense in context. And it has you trying to conserve ammo whilst also making sure whatever the fuck you just saw move stays dead.
What really sells it though is the family. They're all so engagingly twisted, and they're an absolute delight to engage with. Sometimes they're truly frightening, and sometimes they're so darkly hilarious that you can't help but laugh. Jack in particular is the highlight though. He is a weird mix of deranged hillbilly tropes and dad jokes. It's great stuff.
All in all, it's definitely the best in the series since 4, and in my top 5 for the series. I love it, and encourage anyone who can to pick it up and give it a go.
The Green Room
The Green Room is a fucking intense movie. It's about a punk-rock group who desperately need a gig, and end up getting one at an Alt-Right venue. They see something they shouldn't, and end up trying to escape the building while people outside try to make them disappear.
Now, upfront, this is a nasty little film. Some of the gore is pretty intense and it is definitely not for the feint of heart. However, if you're down for that and enjoy wonderfully intense thrillers and/or Patrick Stewart and Anton Yelchin, you need to see this one, even if there's a particularly nasty scene involving a boxcutter.
Why Don't You Play in Hell?
Do you like Kill Bill but think it should have been weirder? This is the film for you. Essentially, it's a Japanese film about a Japanese Film crew who get hired to film the grisly fight between two conflicting Triad groups. And it is fucking hilarious. Essentially, the last half an hour of this film is an extended comedic gore-a-thon, with camera-men and directors stopping the bloodshed to stage awesome shots and what-not.
It's chaotic and cartoonish, and a hell of a lot of fun. It's also extremely weird and bloody. And weird. Check it out!
The Farseer Trilogy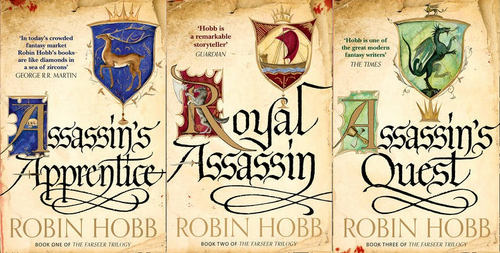 It's been a long time since I read a book. I needed to get back into reading, and Robin Hobb's novels are kind of just what I needed. I'm just going to quote my Goodreads review:
"It is important to know going in that despite being about an Apprentice Assassin, this is not an action packed book. Indeed, even the types of Assassinations found in this world aren't the kind that feature slit throats or sword fights. No, these are usually far more passive forms, such as poisoning. Much of the time the Assassin's job isn't even to kill someone, but to persuade them, or cause them to become ostracised.
I say this not to discredit the book, but to let potential readers know that this is not an action book. This is an expertly crafted study of character and world. The main character of Fitz may not initially seem interesting or unique, but through his interactions and relationships with the cast of wonderful characters he shines.
He is not a badass. He is not here to kick ass or chew bubble gum, despite being expertly trained in the former. He is a character that gets shat on repeatedly because he is a bastard and must know his place. While this can at times make it feel excruciating to read, it also makes the smaller victories that much sweeter, and makes his character and world much more interesting.

Robin Hobb's greatest skills lie in subtlety and restraint. The little things that show how characters secretly feel about each other. The way magic is drip-fed to us. The way an explosive and satisfying payoff always seems just out of reach, but still ever teases you onward.

One of the best I've read in the genre, and well worth a read."
Neil Cicierega - Mouth Moods
If you're somewhat of a music nerd, and are somewhat knowledgable of pop music of the past couple of decades, you need to check this album out. It's hilarious, surprising, and a surprisingly fun and engaging listen. Check it out, especially if you need some cheering up.