Let's Talk PCs, Part I
IBM PC 5150, $1565 ($4123 in 2016)
My frist experience with a PC was in 1981. My aunt and uncle had an IBM 5150, and on one visit, I played some Zork on that monochrome screen. Zork's a text based adventure game. I don't think I finished it either. I was much more interested in my aunt's massive scif/fantasy paperback book collection. I'm ashamed to admit it, but I took some of them home with me without permission.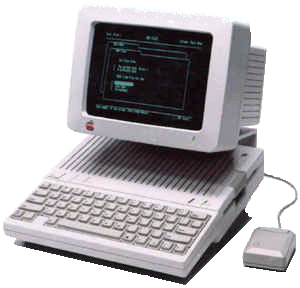 Apple IIc, $1295 ($2985 in 2016)
My second experience with a PC was in 1984 when my parents bought an Apple IIc. The Apple IIc was a streamlined Apple computer designed to be easy to use. I played Wizardry: Proving Grounds of the Mad Overlord and Wizardry II: The Knight of Diamonds on it. I played those games on Sunday afternoons after church, where I was a verger. Wizadry was one of the first great first-person dungeon crawl RPGs based on Dungeons & Dragons. You created a six member team and carefully mapped the dungeon on graph paper as you went along. The Etrian Odyssey series has successfully copied this design on DS and 3DS, the bottom screen taking the place of graph paper.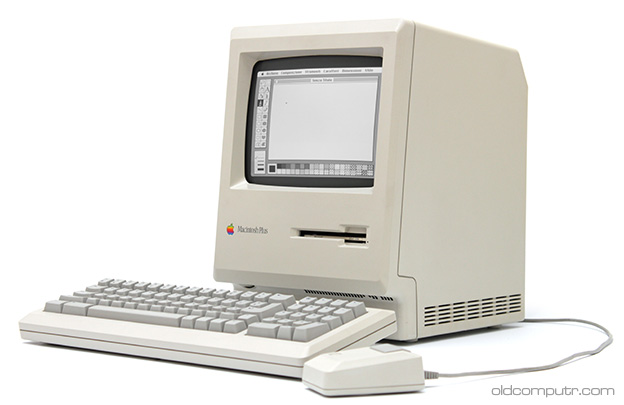 Apple Macintosh Plus, $2599 ($5679 in 2016)
My next experience was with the Apple Macintosh Plus in 1986. I was given one to take to college (I'm shocked to see what these things cost back then. I never knew). I used it as a word processor and printed my papers for school and letters to friends. But I also had a few games I probably got from friends at school. I had Wizardry and my roomate showed me how to hack it to get the best weapon in the game, Blade Cuisinart.
I also had Shadowgate, a point-click-adventure game. You entered Castle Shadowgate, a place full of death traps, and tried to make your way by solving the puzzle of each area. Your object was to stop The Warlock Lord from summoning The Behemoth from hell. I'm pretty sure I finished it. My most lasting memory of it, though, was a flute that you needed to solve a puzzle. It sung a short melody that I identified later as being lifted from the opening to Jethro Tull's song "Songs from the Wood". I can still whistle it.
Dark Castle and Beyond Dark Castle were also in my tiny collection on 3.5 floppy discs. These games were fixed screen action platformers. In the first game, you were a Prince out to defeat the Black Knight in his castle. There were some puzzles to solve, platforming and throwing rocks or fireballs. In the second game, the Black Knight is still alive and offers you more tricks to get past. You get a helicopter pack to fly and drop bombs. Both of these games had excellent sound. I can still hear those sounds in my head after all these years.
That takes us through 1990 or thereabouts. Next is all the rest.