One of Those Backlog Posts
Thanks to the relatively slow season we're having with game releases, I've been able to start playing a few games from the ol' backlog. It's been pretty enjoyable so far, just enjoying these games that have been hanging around on my shelves (virtual and physical) for a while. Here's a quick run-down of what I've been up to.
Bastion
After hearing how great this game was for quite a while and picking it up for half price some time ago, I was finally able to dig in and give it a go. I am a huge fan of the narrator and the visual style. Other than that, though I wasn't too thrilled. Mainly, I didn't enjoy the combat enough to keep playing and re-playing the levels that were far from a cake-walk. There's nothing strictly wrong with the combat mechanics, I just found them to be pretty boring and unsatisfying. It's too bad because the story and world is interesting enough that I'd like to see how it all turns out. It's OK, though. I don't want to spend a lot of time doing something I don't enjoy in my spare time. Experiencing the game's narrator made everything worthwhile that I have done so far. I'm happy I played what I did.
Monster Tale
I like so-called metroidvania games, but I normally have some trouble staying interested. Monster Tale found a way to fix my problem that I bet plenty of people hate. Once you get a new ability or key, the map plops down a flashing orb to show you where you are supposed to go next. A baby mode I can get behind!
Other than that accommodation for teh kiddiez, Monster Tale can be pretty damn tough. The bulk of the first part of the game isn't too difficult, the exceptions being the first couple of boss fights. As you proceed, though, just walking through the levels gets to be fairly dicey and I had to repeat a lot of segments multiple times. Not to mention that the boss battles get even more difficult.
I've only got the slightest bit remaining to wrap it up, but I'm taking a break. I was having to repeat several of the game's final gauntlet o' enemies sections so many times that I got bored with them and needed to do something more relaxing and less stressful. I have every intention of popping the cartridge back in from time to time until I complete this final section.
Oh, and I need to gripe about not being able to interrupt the melee combo animation to save yourself from an incoming projectile or attack. This was the biggest problem I had with Henry Hatsworth (also by Monster Tale developer Dream Rift) and is the reason I quit playing that game. This unstoppable combo isn't as big of an issue as it was in Henry Hatsworth, but it's still irritating.
Final Fantasy: The 4 Heroes of Light
If there's one thing my backlog has plenty of, it's Final Fantasy games. This was made even worse by the Square-Enix shop's holiday sale. I picked up three games (all Final Fantasy related) that have been on my to-buy list forever. The first of these I decided to tackle (in hopes that it was short) was The 4 Heroes of Light.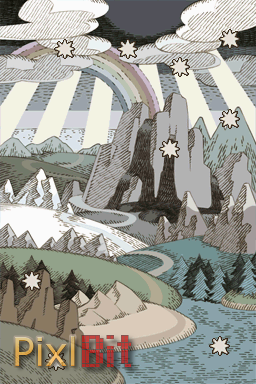 I've just now completed the classic Final Fantasy prelude section, but I think I've got a good sense of the game's battle system and what I'm in for. The mechanics are a little strange, and I can imagine a bit off-putting for some. The first boss encounter really forced me to figure out the best way to plan out my actions when the A.I. determines which enemies get hit and which allies get cured. It's weird, but I think I like it if for no other reason than it's different than most systems out there.
Also, this is just the sort of laid back experience I needed after squeezing my DS to a pulp playing some of those Monster Tale bosses.
Hopefully I can wrap up Monster Tale and The 4 Heroes of Light fairly soon. I've got the Etrian Odyssey IV demo on my calendar and most likely some sort of games to play for review for PixlBit too. It's been fun just messing around with these games instead of trying to be more methodical and critical as I play since I've been playing a ton of games for review lately.
Do you have any opinions on these three games? Am I a giant idiot for not loving Bastion? Are you as psyched for EO IV as I am? LMK,KTHXBAI,YOLO,LYLAS